I typically buy most of my clothing from JCPenneys. I'm not one to buy clothes very often. And when I do, I tend to buy the basics: T-shirts, comfy pants, socks, etc.
In true transparency, I'm not an affiliate for JCPenneys. It's just where I tend to find the best deals on clothing.
Recently I spent $530 on two pairs of sneakers with proper insoles at a quality shoe store because it's very important to wear good shoes.
I have a bad right ankle left over from a past injury. After three surgeries, I've learned that good supportive shoes are a must.
So if I spend money on myself, the main dollar percentage will be on shoes.
Priorities Change As We Age:
As we get older, our priorities change. We have aches and pains, and that's much to do with our feet.
Walking affects our ankles, legs, and backs. My ankle and back are where my main problems lie.
No matter what clothing I wear, my shoes have to be made really well and have the proper insole added.
Short Sleeved T-Shirts:
I can purchase my clothing online. I never shop for clothing in stores anymore.
I know what my size is for various online stores, and that's where I head to buy more.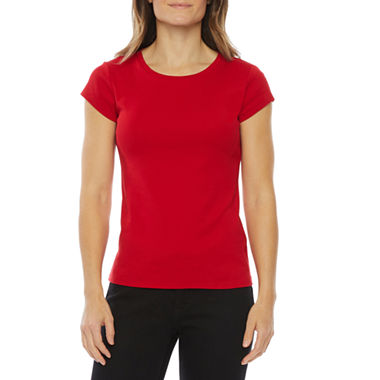 Liz Claiborne Short Sleeve Crew $6.29
St. John's Bay Women's Crew Neck Short Sleeve T-Shirt $6.99
Liz Claiborne Women's Crew Neck Short Sleeve T-Shirt – $4.19
These sales change all the time. But as you can see, you can purchase cheap cotton t-shirts for under $10.
Long-Sleeved T-Shirts:
St. John's Bay Women's Crew Neck Long Sleeve T-Shirt – $7.00
St. John's Bay Women's Crew Neck Long Sleeve T-Shirt – $6.99
St. John's Bay Women's Crew Neck Long Sleeve T-Shirt – $6.99
Liz Claiborne Women's Crew Neck Long Sleeve T-Shirt – $9.79
I spent, rounded off to the closest dollar, $31 for four long-sleeved t-shirts. And that's quite a bargain.
Comfy Jogger Pants:
I work from home. My main hobby is gardening. So I don't need slacks of any variety. I go for comfort there as well.
I will buy neutral jogger pants and wear them with the short-sleeved t-shirts in summer. And pair them with long-sleeved t-shirts in winter.
Liz Claiborne Womens Jogger Pant – $13.19
Women's Socks:
Xersion 6 Pair Quarter Socks Women's – $8.40
GoldToe® 3-pk. Ultra Tec Turn-Cuff Socks – $9.80
As you can see, I purchased 3 short-sleeved T-shirts, 4 long-sleeved T-shirts, and a pair of jogger pants. In terms of socks, I bought 6 pairs of quarter socks and a 3-pack of Gold Toe turn cuff socks at JCPenney online.
How I Go About Buying Women's Clothing Online:
I decide what I need and order enough so I never have to pay shipping.
Then I start looking for the deals and the coupons
I order items that are marked down in addition to being on sale & having coupons.
I'm not a fancy dresser. I go for comfort. I'm a homebody and I don't venture out to places where I might need to dress up.
My advice is to wait until you need enough items so you can get free shipping.
I want to pay the same price as I would for going into a store to shop. Which is basically nothing. But then of course I have my car and gas to consider.
When shopping online, I'm only paying for taxes on the sale because I wait for free shipping.
Basic Tips For Shopping Online For Clothing:
Shop the ongoing sales and coupons.
Write down notes in terms of what you need so you don't get distracted by what you don't need.
Purchase both short-sleeved and long-sleeved t-shirts while you're getting free shipping.
Check to see if you might also need undergarments and socks if they are also on sale.
It's handy to keep a running list of things you need just like you'd do for groceries.
It takes me a few hours to shop this way, but it is well worth it for how much I save. You can start putting items in your online cart and save it to come back to later.
JCPenney Total For Women's Clothing:
My final JCPenneys order came to $91.83.
I saved $69.31 in coupons and discounts and got free shipping.
I call this budget shopping from the ease of my favorite chair.